If your like me, you started your blog to update friends and family on your adoption. Then I saw the possibility of creating awareness for my adoption, our fundraisers and even bigger than that.... to just create awareness for adoption in general.
I don't have a large readership, and I'm sure it would help if I wrote more often, but I did address that
here
;) I seem to be coming out of that shell a
little
, so we'll see! Anywho....one of my favorite blogs,
Storing up Treasures
is starting up a new something over there called Blogs of Note. This will be a little spot where she lists other blogs...and then chooses one blog a month to highlight. Sounds like a pretty easy way to get a few more readers to me, what do you think?!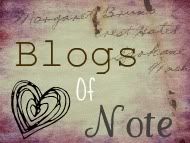 Click on the button above to see what it's all about!